Here are three kitchen assets you can get your hands on for less than $5 to keep things interesting while preparing meals.
Steam basket
Without a doubt, the steam basket is my favorite kitchen device. First of all, it's incredibly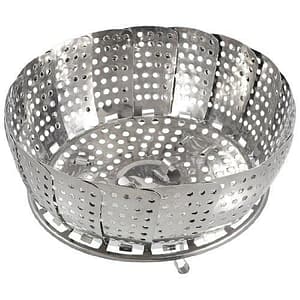 cheap, I have purchased more than one in a thrift store for between $2-3. You can find new ones online for around $5. What I like about this simple version is it's adjustable so it fits into large pots and small frying pans. The device allows you to cook food quickly using steam and as the food cooks, it leaves you with a broth underneath the basket that can be used a stock for soups. Getting in the habit of using a steam basket will ensure that you're buying more fresh produce.

Steaming vegetables and then adding a nut sauce (with a food processor) on top of the steamed vegetables can be divine.  If you don't though get a steam basket, at least read here to learn which is better: Canned or frozen vegetables.
Mortar and pestle
A mortar and pestle can be found online ranging from $5-40 depending on the quality of the instrument.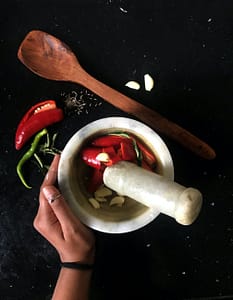 Besides the functionality of a mortar and pestle, there's something that just feels cool about using it. Ancient civilizations carved mortars into rocks and used stones as pestles, you can still see evidence of this today, so there is something that just feels fun and natural about using it.
Mortar and pestels can be used to crush nuts, like cashews to be spread on the outside of superfood chocolates like in this recipe. You can also use it to make pastes (like curry paste), powders, or other spice blends. If your mortar and pestle is large enough you can use it to make dips like hummus and guacamole.
Nut milk bag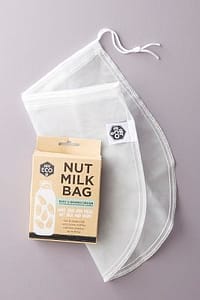 This cheap (3 for $12), simple, easy-to-clean bag gives you a much healthier alternative to dairy and a cheaper alternative to store-bought nut milks. It's simply a cheesecloth in the shape of a bag. I recently made cashew milk (Yum!) and did the math – after buying raw/organic cashews it cost me $2.33 to make 32 ounces – compare that to the retail price of 32 ounces of almond milks – $3.19. You can use cheaper nuts too, I just happen to adore cashews. Not only did I save money, but I had the cashew pulp leftover to use in other recipes and am assured the highest quality drink. Store-bought versions often use roasted or pasteurized nuts (depletes minerals) and have unwanted additives (carageenan).
It's fun to add different things to the recipe that you do want in your drink to perfect the taste you're looking for. With the assistance of a blender, a nut milk bag can also help you make "cheeses," teas, fruit sauces or sprouted seeds and nuts. This is one of many examples of how eating healthier can also be cheaper if you're willing to put some effort in.